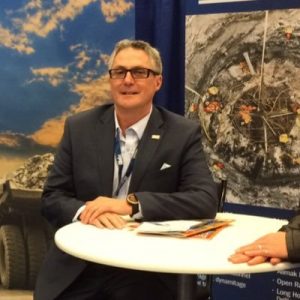 Dany Gaudreault
Key Customer Manager & Indigenous Affairs
Sandvik Mining and Rock Technology (Val-d'Or, QC)
Dany Gaudreault has been in the mining industry for 39 years. Dany has been married for 32 years and has two beautiful children, Isabelle 21 and Pierrot 26, and newly a grandfather of a little girl, Olivia. He enjoys golfing, hunting, fishing and travelling with his wife.
Back to Sandvik now where he spent 25 years before joining EBC 5 years ago. Dany will handle several key mining accounts across Canada and will be in charge of Indigenous affairs.
Sandvik Mining and Rock Technology is a global company that acts locally, in recognition of the unique needs of its customers and of the Indigenous communities impacted by their operations. Sandvik is flexible and tailors their approach to the requirements of each community and customer. All their actions are strategic and align to what makes sense to the business. Its goals are to help impacted Indigenous communities take advantage of the employment, skills development and business opportunities provided by their customers' operations, while maximizing benefits to their customers.
Sandvik Mining and Rock Technology is a leading supplier of equipment, tools, service and technical solutions for the mining and rock excavation industries. With customers demanding ever greater productivity to ensure profitability, it  provides cutting-edge solutions needed to succeed. Our equipment and services help our customers in every corner of the world to mine and excavate rock safer and more productively. Our offering covers rock drilling, rock cutting, crushing and screening, loading and hauling, tunneling, quarrying, breaking and demolition.
Every product is backed up by extensive R&D, application expertise, authorized dealer network, on-site service and training and aftermarket support. In addition, Sandvik parts and services help our customers save millions, through their round-the-clock service, qualified engineers and genuine parts on demand.
We strive to eliminate harm to our people, our customers, our suppliers and to the environments in which we work: that is our Environment, Health and Safety (EHS) vision, and we never compromise on it.
Business Area Sandvik Mining and Rock Technology is structured around nine Divisions:
Underground Drilling
Surface Boom Drills & Exploration
Surface Pedestal Drills
Rock Tools
Load & Haul
Mechanical Cutting
Crushing & Screening
Rock Drills & Technologies
Parts & Services