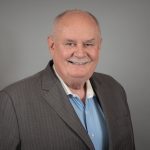 Randy Moore, Director Emeritus
Vice President, Strategic Development and Aboriginal Relations
Bee-Clean Building Maintenance (Edmonton, AB)
Randy married his wife Gerri in 1972. With four married children, Randy and his wife are the proud grandparents of six grandchildren. He is an entrepreneur at heart, and has been in business for himself, in one way or another, since the age of 16.
In 1993, Randy accepted the position of Vice President and General Manager of Creative Door Services. When Randy and the company founder Dan Nixon sold Creative Door in 2006, it was recognized as the largest installing door dealer in the world, with 10 offices throughout Western Canada. During his time at Creative Door, Randy served on the Board of the International Door Association for two, three-year terms. He was their dealer Vice President for four years.
After Creative Door, Randy went into retirement – that lasted 10 months. As Randy says, "I just love business too much. It is my passion. Business is a game and I couldn't imagine knowing the game is being played and I don't have a seat at the table." Randy is proud to have received his ICD.D designation in 2014 and currently serves on three corporate boards.
His involvement with Bee Clean Building Maintenance started when he was asked to sit on their Corporate Advisory Board upon its inception in 2010. He accepted a contract position as Vice President in 2011, and is currently Vice President of Strategic Development and Aboriginal Relations. Randy's focus at Bee Clean is on developing business relationships with Indigenous business groups who are active in the industrial sector. Under Randy's guidance, Bee Clean has successfully entered into partnerships with Indigenous groups across Canada.
Randy's hobbies include: motorcycling, golf, poker, traveling and spoiling his grandchildren.