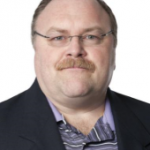 Mark Brajer
Chief Executive Officer
Tlicho Investment Corporation & Group of Companies (Yellowknife, NT)
Over a 25+ year career, Mark's expertise has been largely in the operations, supply chain and engineering areas. He has worked with E.D. Smith in Winona, Ontario and Byhalia, Mississippi; Alberto Culver in Toronto and Melrose Park, Illinois; Unilever in Toronto and Englewood Cliffs, New Jersey;  before making his way to Epicure in Victoria, BC, and then to the Tlicho Investment Corporation & Group of Companies in Yellowknife, Northwest Territories, when he joined them in December 2017.
He has undergraduate degrees in Chemistry (B.Sc) and Chemical Engineering (B.Eng) from McMaster University, and an MBA from Heriot-Watt University in Scotland. He is currently working toward a Doctorate in Management (Organizational Development) at the University of Phoenix. He is a licensed engineer in Ontario, British Columbia, Northwest Territories and Nunavut.
Mark is Chief Executive Officer for the Tlicho Investment Corporation, having been promoted in August 2019 from COO, which has 22 wholly owned businesses, and 10 joint ventures, involving trucking, construction, retail and hotel operations, site services & labour management. He currently lives in Victoria, BC and works in Yellowknife.