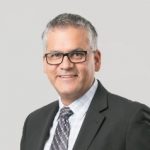 Lyle Bouvier
Vice President, Corporate Services
Points Athabasca Contracting (Saskatoon, SK)
Lyle is Métis, born in Saskatchewan, and raised in the prairie region. He is a lawyer by profession and has worked for nearly twenty years as a lawyer in Manitoba and Saskatchewan, in both public and private practice and has extensive experience in Indigenous law, taxation and corporate litigation.
For the past 5 years, he has worked in executive roles for Indigenous-owned businesses. He currently sits as the Vice President of Corporate Service for Points Athabasca Contracting. Lyle has extensive board experience including roles of chairman of the board of directors for an Indigenous labor supply company and the chair of an election appeal committee. In addition to legal work, he has also owned and managed a successful oil service company.