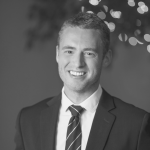 Jon Davey
National Director, Aboriginal Financial Services
The Bank of Nova Scotia (Toronto, ON)
Jon is of mixed Haudenosaunee and non-Indigenous descent. He shares his Lower Cayuga heritage, Six Nations of the Grand River Territory with his father. As the National Director of Aboriginal Financial Services, Jon is responsible for developing Scotiabank's Indigenous market segment through community and business partnerships based on commercial, retail and small business banking and wealth management.
Prior to joining Scotiabank, Jon practiced Indigenous law for over 10 years, as Crown Counsel with the Department of Justice Canada. He worked extensively on matters involving the Indian Residential School Settlement Agreement as well as land management on reserve, before being appointed as the Special Advisor and Counsel to the Assistant Deputy Minister of Aboriginal Affairs.
He received his law degree from Osgoode Hall Law School and is an Alumni Gold Key recipient who serves as a Director on the Osgoode Hall Alumni Board. Jon also holds a master's degree in Public Administration from Cornell University, where he was a Public Affairs Fellow and inductee into the Pi Alpha Alpha Global Honors Society. As well, he is a Captain in the Canadian Armed Forces (Primary Reserve) and holds the appointment of Aide de Camp to the Lieutenant Governor of Ontario.