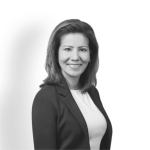 Cherie Brant
Partner, Borden Ladner Gervais LLP (BLG)
Toronto, ON
Cherie has a commercial practice across a wide variety of sectors, including energy and transmission, land development and financing on First Nations lands, franchising, cannabis. Industry clients in the natural resource, energy and infrastructure sectors will also seek Cherie's counsel when developing projects or partnerships with Indigenous groups.
In 2018, Cherie was appointed by the Province of Ontario to the board of directors of Hydro One Limited and continues to act as a director and committee member on the governance committee and Health & Safety and Indigenous relations committee.
In 2017, Cherie received the Lexpert Zenith Award and in 2012, she was named one of Lexpert's "Rising Stars: Leading Lawyers Under 40." Cherie acted as lead counsel to the Ontario Chiefs-in-Assembly on the creation of the Ontario FN Sovereign Wealth LP, a partnership among 129 First Nations, the acquisition of 2.4% of Hydro One Limited and a significant seed capital contribution for long-term wealth creation.
In 2012, she completed the first 100 per cent First Nation-owned wind power project in Ontario and has been active in renewable energy development since 2009. As lead counsel to the First Nations Energy Alliance she advocated Indigenous participation models for renewable energy procurement.