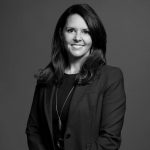 Alicia Dubois, Co-Chair
Founder
Nish Synergies Advisory Group (Calgary, AB)
Alicia is a proud Indigenous professional who earned a B.Sc., with Distinction from the University of Lethbridge and a Juris Doctor from the University of Toronto. Alicia is committed to advancing Indigenous prosperity and an equitable economy through economic development and strategic partnerships.
Alicia practiced law in Calgary and Toronto for just over a decade before transitioning into Indigenous finance and has been honoured to lead and support highly impactful mandates through formal leadership and volunteer positions. Alicia found Nish Synergies Advisory Group to support Indigenous business leaders, corporations, not-for-profit organizations and governments as they navigate how to create synergistic, lasting business partnerships with shared outcomes and measurable impact. Prior to Nish Synergies, Alicia was CEO of Alberta Indigenous Opportunities Corporation and before that, she was a member of CIBC's executive team where she developed and implemented CIBC's national Indigenous Markets strategy and framework.
Alicia has been on the board of Canadian Council for Aboriginal Business for over 6 years and more recently joined the board of Green Impact Partners, Inc. (TSXV). Alicia is on the University of Calgary Haskayne School of Business Management Advisory Council, is a co-visionary for the Prosperity Project, supports the Management Team of the Hydrogen Hub and is on the Advisory Council for the Business Council of Canada's Coalition for a Better Future. Alicia is passionate about enhancing the positive national narrative around Indigenous business and partnerships, and does so through speaking engagements and best practice sharing with industry, governments and diverse audiences across the country.
In 2019, Alicia was honoured with the National Aboriginal Trust Officers Association's inaugural Award of Distinction for her commitment to Indigenous prosperity and self-determination. Prior to her career in Indigenous finance, Alicia practiced law at Alberta Justice, ENMAX Corporation and Native Child and Family Services of Toronto.