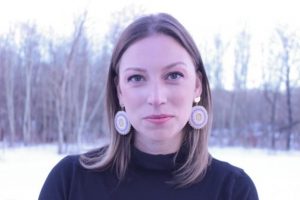 Sarah Midanik
President and CEO of the Gord Downie & Chanie Wenjack Fund (DWF)
Sarah Midanik has been serving as the President and CEO of the Gord Downie & Chanie Wenjack Fund (DWF) since September 2017. A member of the Métis Nation of Alberta from the historic Métis settlement of St. Albert, Sarah is a member of the Cunningham family.
Sarah completed a bachelors degree in Communications from the University of Calgary in 2008, obtained a Public Relations diploma in 2010 from MacEwan University and is working towards an Executive MBA in Indigenous Business Leadership from Simon Fraser University in 2021. She has also completed the Not-for-profit ICD.D course from Rotman School of Management at the University of Toronto.
Sarah has over 15 years of experience, specializing in the not-for-profit and charitable sector. Her career path includes work with Indigenous communities and organizations, non-government organizations, corporate partners and governments from across Canada.
Currently, Sarah serves on the national Board for the Boys & Girls Clubs of Canada and supports the work at the Indigenous Professional Association of Canada. She has been instrumental in the development of the Indigenous Centre for Innovation and Entrepreneurship in Toronto, ON and is a Founding Member of the newly created Honouring Nations Canada Circle of Advisors which is a collaboration between Fulbright Canada and the Harvard Project on American Indian Economic
Development.
Sarah is committed to advancing Indigenous programs and projects and has sat on many advisory councils and committees including the Aboriginal Advisory Counsel for the City of Toronto, the Toronto Indigenous Health Advisory Circle, the Toronto Police Service and was the Co-Chair and Co- Founder of the Indigenous Place Making Council. Sarah is an accomplished leader and ambassador with countless engagements and connections across Canada. It is her passion for community, culture and traditions that drives her to be an advocate to further reconciliation in Canada.
Sarah brings the past, present and future to the table, moving non Indigenous and Indigenous peoples towards building stronger relationships resulting in sustainable, equitable partnerships and shared prosperity. Specialties: Leader, excels at understanding people and values, in-depth and skilled negotiator, strong financial management skills, proposal development, building confidence in others, strong work ethic, excellent communication skills (written and verbal) and a skilled strategist with a long-view.