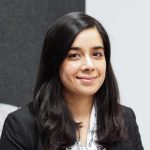 Ravina Bains
Vice President, Commercial/Wealth Sales Integration
Scotiabank (Toronto, ON)
Ravina Bains serves as the Vice President of Commercial/Wealth Sales Integration at Scotiabank. She works with the Commercial and Canadian Wealth Management teams across the country to service Scotiabank's clients.
She previously served as the National Director for Aboriginal Financial Services at Scotiabank. Ravina has over 8 years of experience working with Aboriginal businesses and communities across the country. Prior to joining Scotiabank she served as the Director of Policy for the federal department of Indigenous and Northern Affairs Canada in Ottawa, where she worked to advance Aboriginal economic development, education, fiscal and social policy issues in Canada.
Ravina also worked as a UN Human Rights Monitor for the International Service for Human Rights in Switzerland and serves as a Board of Director for the Canadian Women Voters Congress, an organization that works to demystify the political process for women interested in working on campaigns, advocating for issues, and running for elected office.
Ravina has published numerous original studies and articles on pressing Aboriginal public policy issues. Her work has been featured in major Canadian and American newspapers such as the National Post, Globe and Mail, Ottawa Citizen, the Chicago Tribune, Washington Post and more. She has also appeared on Global News, CBC, BNN and radio talk shows across Canada.
Ravina holds a M.Sc. in Law from the University of Oxford, where she studied as a CN Scholar, a B.A. and M.A. from UBC, and is pursuing a PhD in Public Policy.