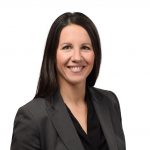 Denise L. Pothier, P.Eng.
Vice President, Practice Services & Aboriginal Relations
Stantec (Halifax, NS)
Denise was born and raised in Nova Scotia, with French Acadian and Mi'kmaq heritage.
Denise has more than 20 years' experience in regulatory compliance, quality assurance, process engineering, risk assessment, instrumentation and control engineering. Her areas of specialty include quality, health, safety and environmental regulatory compliance, petroleum refinery and offshore operations. As Vice President of Aboriginal Relations, Denise is responsible for fostering and building on Stantec's existing relationships with Aboriginal communities and businesses with a commitment to provide opportunities for training, hands-on skills development, employment, and business to Aboriginal community members, when possible, during the execution of projects. Denise is a member of the Stantec Canadian Diversity & Inclusion Council and lead for Aboriginal Connections sub-committee.
Denise is currently on the Board of Directors of Techsploration, an organization helping empower young women to explore careers in sciences, trades and technology and is the Vice-Chair of the Women in Engineering committee for Engineers Nova Scotia and a member of Continuing Professional Development Committee.
Denise is the recipient of 2016 the Canadian Progress Club Halifax Women of Excellence Award for Management and the Professions and will be profiled in the 2017 Women of Innovation: The Influence of leading Canadian Women in Engineering  book.
In addition to Denise's professional life, she volunteers for various organizations around Halifax including the Mi'kmaw Native Friendship Centre, Feed NS Foodbank, Immigrant Services Association of Nova Scotia, Habitat for Humanity and is a Walking With Our Sisters Planning Committee member. Denise is also near completion of a MBA through Athabasca University